One of the limitations of letterpress is that you can only print one color at a time. This means that for each new color, the press must be cleaned, another plate made, the plate for the additional color registered, and all of the sheets of paper hand-pressed all over again. This process must be repeated for each new color. So, for a 3-color wedding invitation with 300 pieces, you actually end up hand-pressing 900 times plus all the additional makeready. This is why you rarely find an invitation with more than 3-colors. Giclée printing is the beautiful answer to this problem.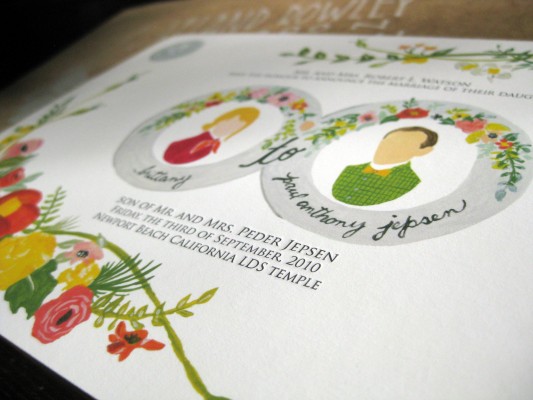 Giclée printing has traditionally been used for fine art reproductions, so it lends itself well to high-end wedding invitations. Unlike most printing methods where you are using only four colors, giclée printing has at least six inks. The inks are pigment inks which means that they can be stable for up to 25 years on the printed piece. The colors are amazingly rich because of the pigments in the ink. Giclée printing also allows for the use of varied paper including handmade papers and Crane's Lettra. All of these things combine to make a perfect fit for letterpress.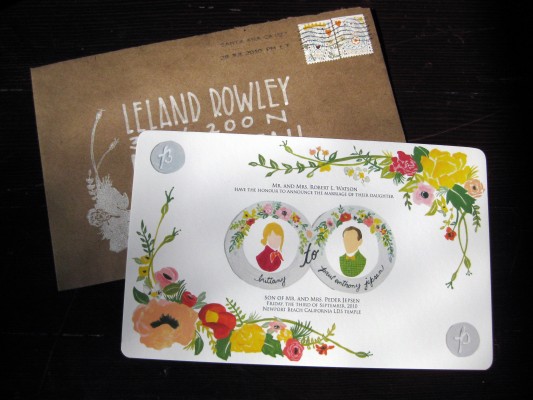 The hardest part of this job was making sure that everything would register between the two printing methods. If the giclée printer scaled the image down or up at all, then the registration could be totally off when we tried to print with the letterpress. Luckily, due to some forethought and careful printing, our fears of nightmarish registration problems were totally unrealized. Phew.
Unlike most of our invitations, the talented Artist/Designer was the bride herself. She came to us with a great design and the idea of having the invitations 4-color offset printed before being letterpressed. At first, we were having a hard time finding an offset printer who could work well with letterpress and meet our high standards. Then we remembered hearing something about giclée printing while working with a local non-profit art gallery. After a bit of  research, we found the best giclée printer around and got to work. The art reproduced marvelously and the colors were rich and vibrant, showing off the beautiful artwork.
We received a copy of the invitation in the mail and were amazed by the beautiful envelope treatment. A brown craft paper envelope was used and then addressed with beautiful hand lettering in white paint. We will certainly be adding her to our list of preferred designers!
The Artist/Designer's blog can be found here: